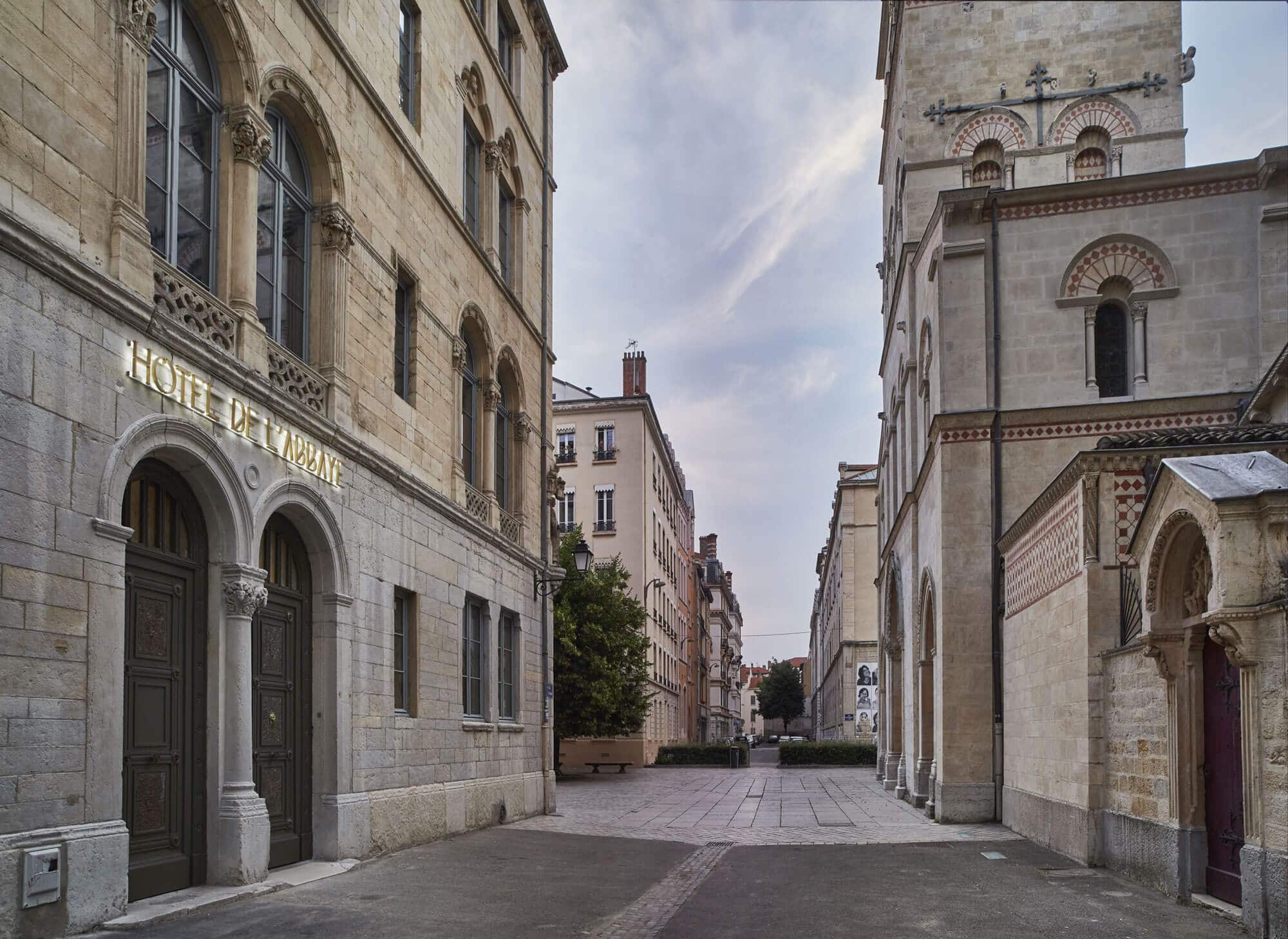 Site Editor
This site is published by Artichaut, a limited liability company (SARL) with a capital of 1000 Euros, and registered in the Lyon Trade and Companies Register under the number RCS: 830123915
SIREN NUMBER: 830 123 915
Registered office: 20 Rue de l'Abbaye d'Ainay, Lyon 69002.
E-mail : contact@hotelabbayelyon.fr
The director of the publication of the site is Arthur Laeuffer.
Website host
The site is hosted by OVH, a simplified joint stock company with a capital of €10,000,000, whose registered office is located at: 2 rue Kellermann 59100 Roubaix - France.
Intellectual property
The general structure of the site, as well as the elements presented (texts, sounds, images or videos) are the property of Artichaut. Any representation and/or reproduction and/or exploitation of this site, in whole or in part, without the prior written authorisation of Artichaut is strictly forbidden and may constitute an infringement of copyright under Articles L 335-2 et seq. of the French Intellectual Property Code.
Information on this site may contain technical inaccuracies or typographical errors. Changes may be periodically made to the information herein and will be incorporated in new editions. Artichaut may, at any time, without notice, make improvements or changes to the information, pages or services described on this site.
Privacy notice for your personal data
In accordance with the General Data Protection Regulation ("GDPR") and applicable local laws, we provide information here about how Artichaut collects, uses, protects, stores, shares and deletes your personal data. We also provide information on how to contact us to exercise your rights under local law.
Data Protection Officer
Arthur Laeuffer is the Data Protection Officer for the company Artichaut.
E-mail: contact@hotelabbayelyon.fr
Data collected
Contact information - this is the information we use to contact you in order to answer your questions after you fill in our contact form. This includes data such as first name, last name and e-mail address. This information is not stored in a computer file or transferred to a third party.
Booking information - when you book rooms online, you use the SiteMinder service which allows us to manage reservations and room scheduling. You can read the terms and conditions and privacy policy on our online booking pages.
Hyperlinks
Artichaut is not responsible for the hypertext links pointing to this site. The hypertext links established to other sites from this site do not, under any circumstances, engage the responsibility of Artichaut, in particular but not exclusively as regards the content of these sites.
Cookies
In order to have information on how people use the website, the Google Analytics statistical solution is used. To operate, this solution sets cookies, small text files stored on your computer or mobile device when you visit a website, and collects information that is then stored on their servers. These cookies allow us to analyse your use of the website in order to evaluate and improve our performance.
Don't like cookies?
You can change your browser settings to delete cookies or prevent them from being stored on your computer or mobile device without your permission. Your browser's help menu should provide information on how to manage your cookie settings. Find out how this works for your browser here:
Applicable law
This site is governed exclusively by French law and by international conventions applicable in France.